Missing teeth often necessitate the use of dental bridges. Tooth loss can occur due to an injury, decay or a congenital condition. Patients experiencing tooth loss can suffer from a host of ailments. These can include a lack of confidence, an improperly aligned bite, changes to the facial structure, and the shifting of neighboring teeth. These can all result in further tooth damage and decay. Bridges can help restore a patient's smile and help prevent consequential conditions from arising. However, it is important to note that not all bridges are the same. Dentists will use each type according to the specific oral needs of the patient and require a different fitting process. Read on to discover more about bonded bridges.
What Is a Dental Bridge?
First, patients should understand what dental bridges are and how they work. A bridge is a customized replacement for missing teeth. Anchored between the adjacent natural teeth, a dentist will fit the bridge securely. This means that it literally bridges the gap created by missing teeth. There are different types of dental bridges. They include the following: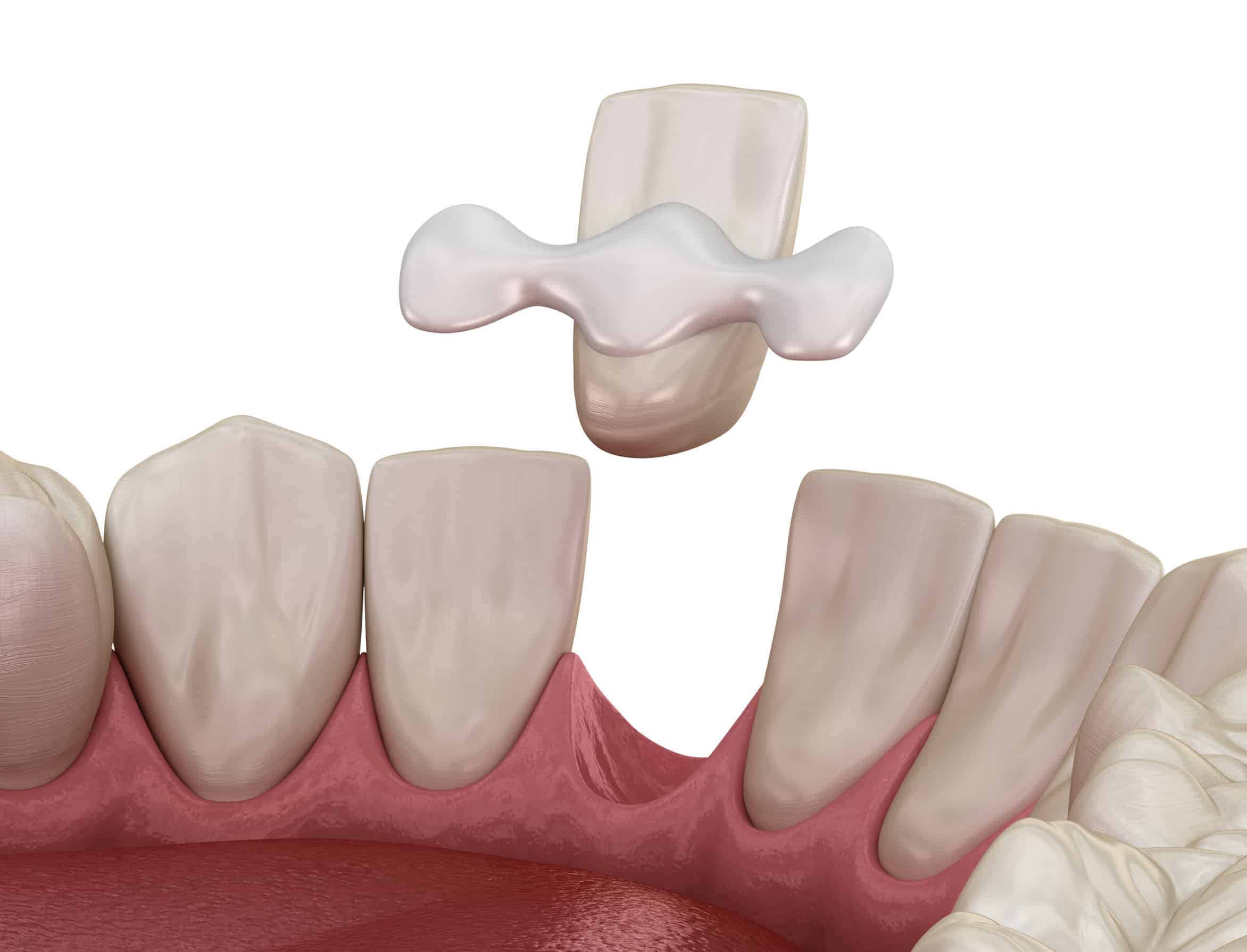 Fixed Bridge
Dentists will need to prepare the two neighboring teeth by removing a sizable portion of enamel. This helps to properly anchor the bridge. Due to the hardness of tooth enamel, dentists need to use a drill to remove a necessary amount of enamel before the bridge can be properly fitted.
Implanted Bridge
Dental bridges can require the use of surgical implantation. This works by affixing the teeth into the gums with metal posts in place of a natural root. This procedure is often necessary when there are no neighboring teeth with which to anchor the bridge.
How Is a Bonded Bridge Different?
A bonded bridge is a less invasive type of tooth replacement. Used primarily for aesthetic purposes, it also helps reduce the risks associated with missing teeth. Dentists will often use bonded bridges to replace missing front teeth. Composed of resin, these bridges are bonded to the adjacent teeth. This means that no drilling of the enamel or implanting is necessary. Dentists can prepare the bridge to fit securely and match the color and appearance of your natural teeth.
Why Should Patients Consider a Bonded Bridge?
1. They Are Minimally Invasive
Compared to similar procedures, bonded bridges offer the least amount of pain and stress. Many patients experience anxiety about undergoing dental procedures. This anxiety is often fueled by a fear of invasive procedures, and when a patient puts off necessary dental work, further problems can arise. However, because bonded bridges require no drilling or surgical implantation, they are among the least invasive of dental bridges.
2. You Have Neighboring Teeth
Bonded bridges must be supported by neighboring teeth. This facilitates the bonding process and creates a secure fit. Bonded bridges that fit well can help prevent food and debris from entering spaces and causing decay.
3. They Can Be a Root Canal Alternative
There are instances when a bonded bridge can serve as an alternative to a root canal. This offers a less invasive and non-toxic method of treatment. Root canals can cause a plethora of health problems and are particularly avoided in holistic dentistry. A biological dentist might recommend a bonded bridge as a safer alternative.
4. They Are Less Costly Than Similar Procedures
Cost is also a reason why some patients forgo necessary dental work. Bonded bridges are less expensive than other tooth replacement options. Alleviating financial stress is another reason why eligible patients choose a bonded bridge over other more costly alternatives.
Restore Your Smile Today!
At Pure Holistic Dental, we offer a wide range of biologically-based dental treatments. We can perform a bonded bridge or help patients avoid the need for one. Practicing holistic oral hygiene and promoting optimal health is at the heart of our practice. Call us at (281) 957-1672 to book an appointment and browse our website to learn more.
Are we a good fit for you?
You want to save time and money over your lifetime to get optimal health
Your goal is to be the healthiest version of yourself to feel the best
You want the least amount of dental work possible