In the Heart of Sugar Land, TX
biological | wellness | cosmetic
Why Are We Sugar Land Dentists?
We chose to be Sugar Land Dentists because we wanted to be close to the sweetest people in Texas! Aside from that, Sugar Land has a rich tradition of health and wellness.  Our families have called this area home for over 30 years and we're proud to continue the Sugar Land tradition by serving as trusted dentists and health practitioners.  
We LOVE the Sugar Land Community!
We are located in the Sugar Land Medical Office Building alongside UTMB Womens Health and UT Physicians.  Our convenient location off the corner of Highway 69 North and Williams Trace makes it easy for patients to visit us from downtown Houston or from the Richmond / Rosenberg Area. 
Serving Southwest Houston's Dental Needs
Our office was designed to bring high-end dentistry to the Houston and Sugar Land Community.  We offer the latest technology and techniques in every aspect of our dental practice.  This includes Biomimetic Restoration, Airway Analysis and Expansion, SMART Mercury Removal, Three Dimensional Cone Beam Computed Tomography and Laser Dentistry
Dr. Krupa George, Dr. Marty Powell, Dr. Tuan Do and our entire staff and dedicated to providing you with outstanding care and the smile that you deserve.  Our office serves Sugar Land and the entire Houston area.  This includes Greatwood, Pecan Grove, New Territory, Missouri City, Stafford, Richmond, and Rosenberg.
Are You a Sugar Land In-Network Dentist?
Our office is out-of-network with most major dental insurance plans.  However, we are still able to work with all PPO Insurances that allow you to choose your own dentist.  We will always work to maximize your dental benefits to help you get the care you need.
We also offer dental discount or membership plans for patients that may not have insurance.  Dr. George and her staff are proud to offer dental education, and resources to children, teenagers, and adults.  This is one small step toward helping serve the needs of Sugar Land Dental customers.
How do I Make an Appointment?
Its easy to make an appoint with us online or on the phone. Please give us a call at (281) 957-4099 to reserve your spot. We offer 3 different types of appoints at our office. All of our exam types include all needed X-Rays. There are no surprise fees at our office!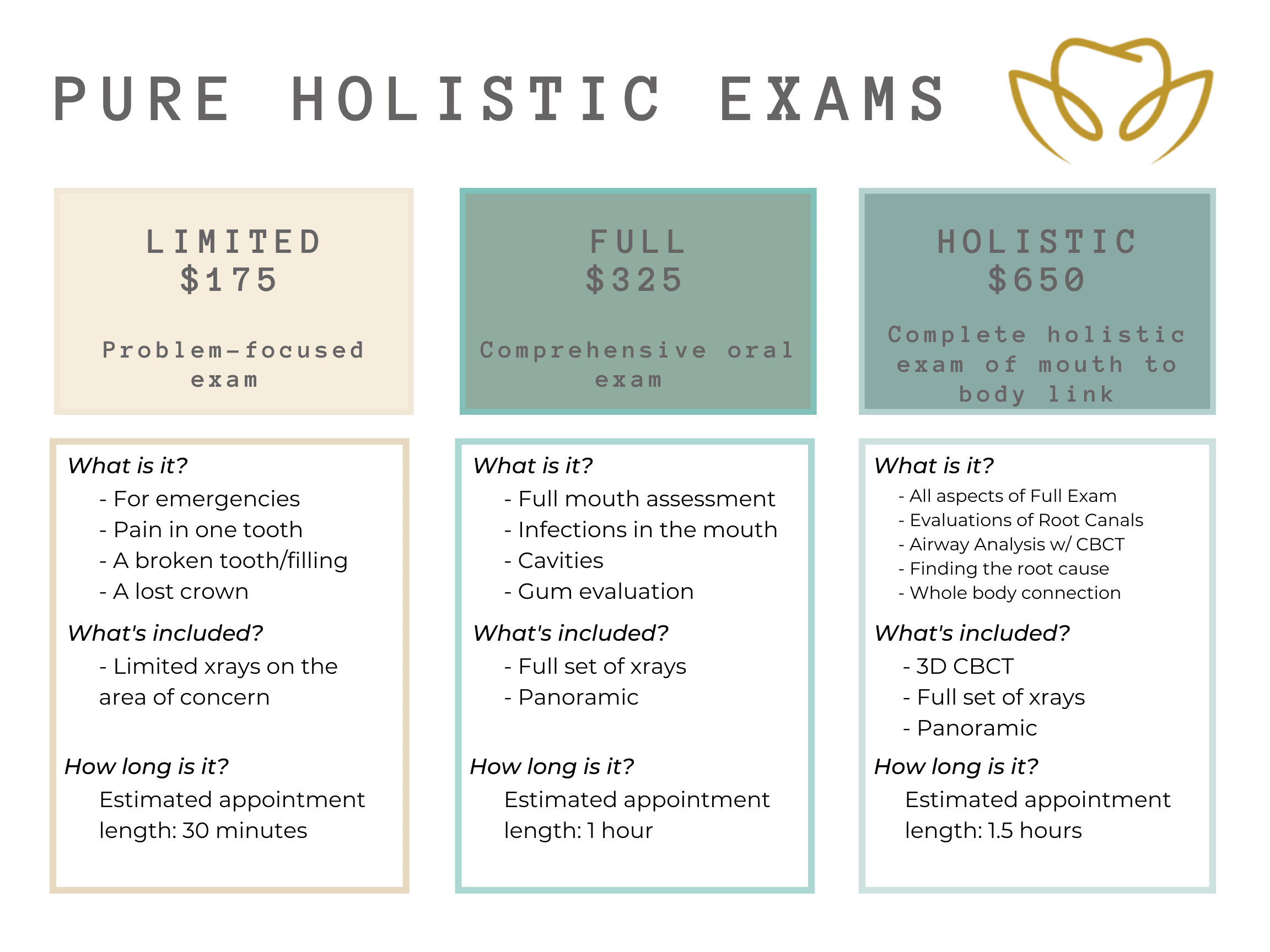 Mercury Safe Dentistry
We are able to safely remove old mercury amalgam (silver fillings) through a very specific procedure. We never use mercury amalgam to fill cavities.

Integrative Dentistry
Here at Pure Holistic Dental, we believe what happens orally affects the rest of the body, and vice versa. Our oral health impacts the rest of our body because the mouth, teeth and gums are integrated with our body systems.

Minimally Invasive Dentistry
Our goal is to conserve healthy teeth through prevention, remineralization, and minimal dental intervention. We evaluate every patient to see their risk and put together a plan individualized for them.
Are we a good fit for you?
You want to save time and money over your lifetime to get optimal health
Your goal is to be the healthiest version of yourself to feel the best
You want the least amount of dental work possible