Dental Membership Plans
At Pure Holistic Dental, our patients have realized that their big box dental insurance is not helping them get the level of care they need.  Long wait times, denials, and yearly maximums have left several clients frustrated and fed up.  Our dental membership plan won't do that.  We do not have maximums and always provide alternatives.
No middle man! No Mark-Up.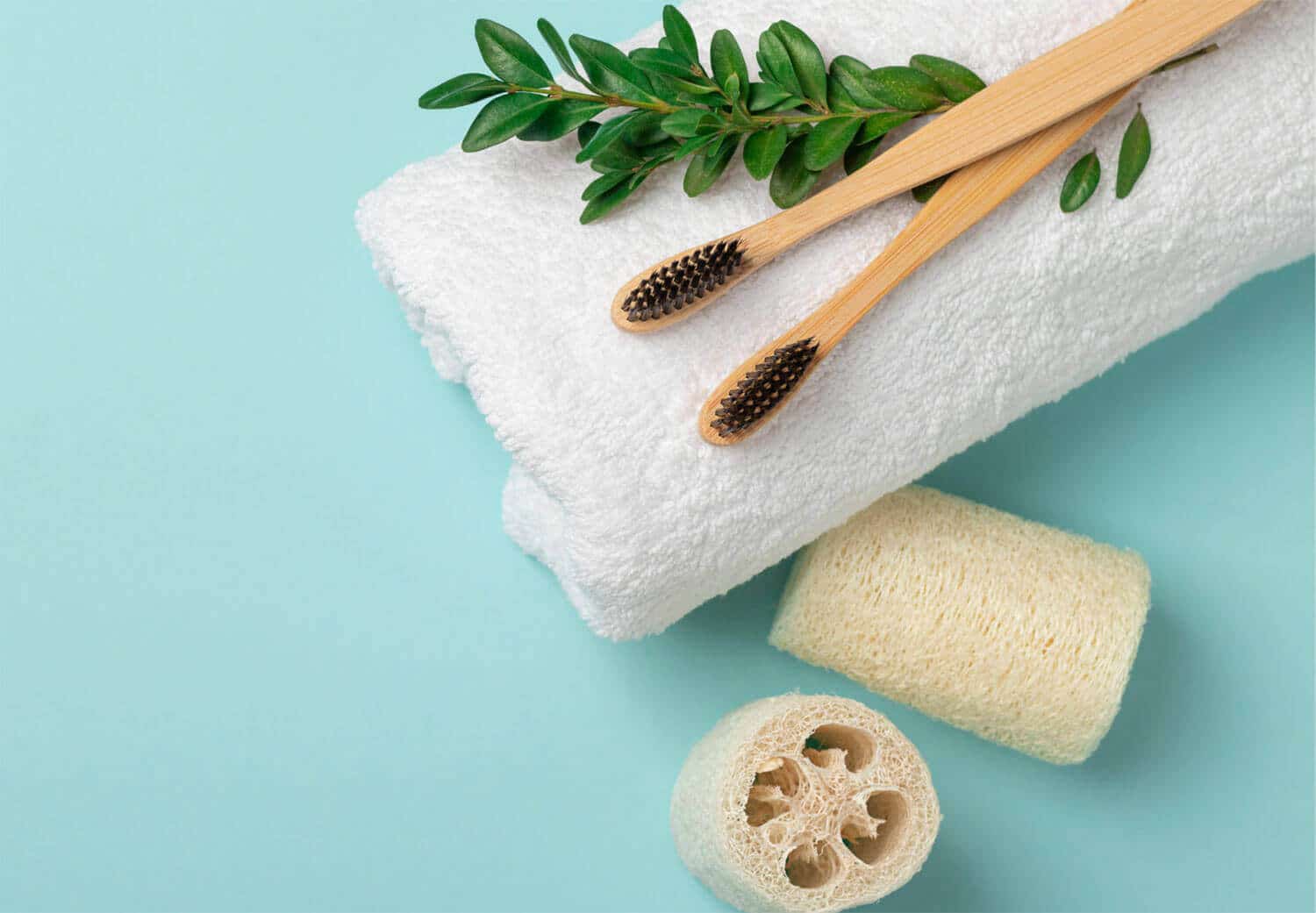 Why should I purchase a Dental Membership Plan?
Many people find that when they have a membership, and there is no additional co-pay per visit, they are encouraged to utilize their dentist more often. Having a membership also means that you have a dentist who knows you well, knows your specific health needs, and is easily accessible in case an illness does occur.
In addition, our society tends to see a dentist's office as a place to go only when you are sick or in pain. In reality, a dentist is meant to guide you both in sickness and in health.
Our practice has a focus on both treating disease as well as promoting wellness. Patients can schedule consults to discuss their bite, smile, gums, airway, muscle pain issues, and much more.  We are here to answer questions and help you achieve your individual health goals.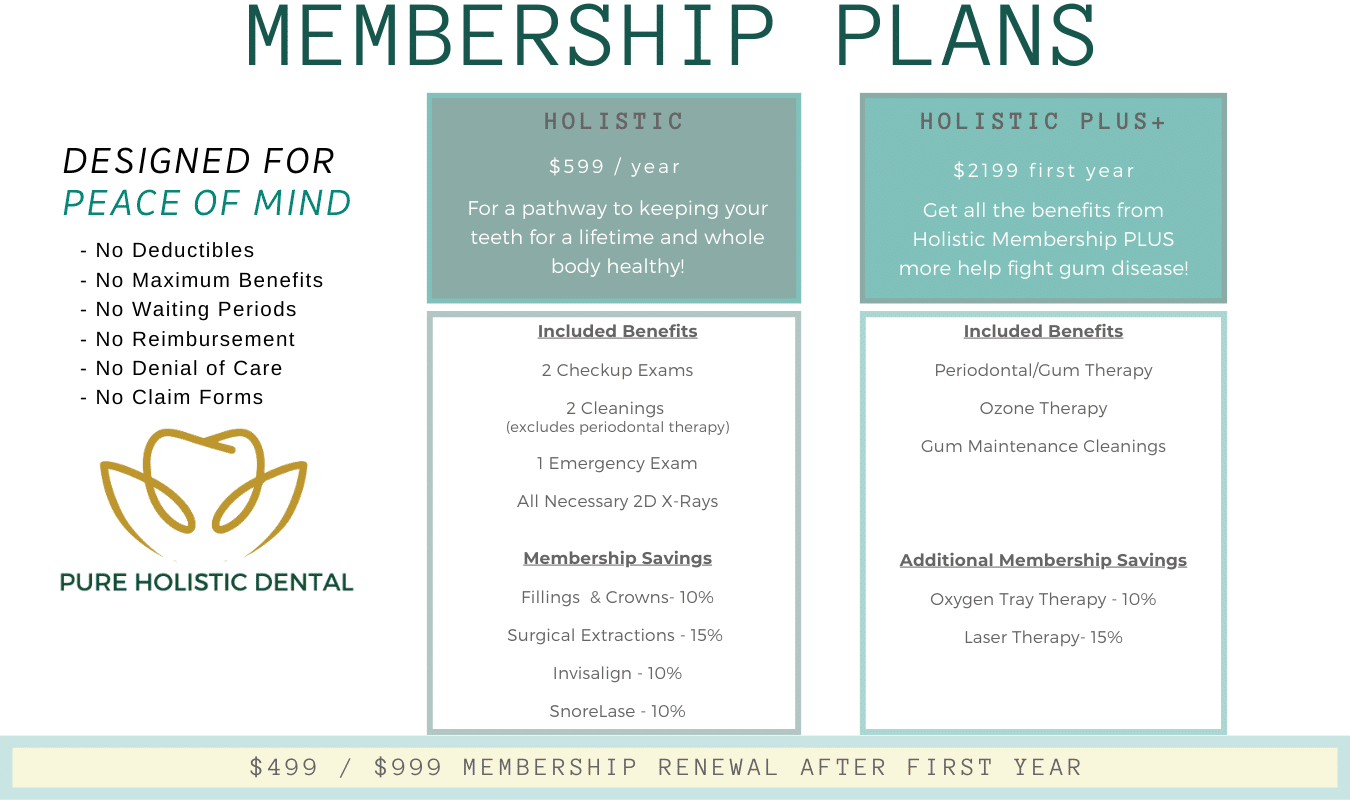 What Is a Holistic Exam?
A holistic exam is perfect for patients interested in taking a biological approach and best when paired when the membership plan. We assess many factors and look at things like
| | | | |
| --- | --- | --- | --- |
| Airways | Genetics | Gums | Lip / Tongue Ties |
| Breathing | Micro-nutrients | TMJ Jaw Joint | Bio-Compatibility |
| Jaw Bite / Position | Sleep | Metal Toxicity | Mercury Toxins |
If you're looking to save money over your journey with us and do not have insurance, we recommend the membership plan to take advantage of the most discounts.
What Is A Emergency Exam?
A Emergency or Limited exam is great for patients that are facing pain. We will assess for cavities and infection, Step 1 of the Holistic Process. Always giving you non-toxic options, but we will not be able to get the root cause of any issues without further assessments.
We still strive to go above and beyond the typical general dentist with this exam. At our office, we focus on minimizing radiation exposure, providing transparency into assessment through 2D imaging, and creating a comprehensive treatment plan.
Frequently Asked Questions
Q: Why Do You Have A Membership Plan?
A: We believe that the key to great oral health is to visit your dental team regularly so that we can prevent any major problems from occuring.  This relationship should not be limited to people with insurance only.  Our membership plans save you money from the first visit and throughout the entire year.
Q: Can I Start Using Benefits When I Sign Up?
A: Yes, your benefits can be used immediately after joining the practice plan.
Q: Can you pay on a flexible schedule? 
A: Unfortunately, you cannot pay monthly at this time. 
Q: Can you cancel your membership? 
A: Yes, you can cancel your membership during the first 30 days  by emailing hello@pureholisticdentist.com.  You will only be refunded if you have not used any services offered within the plan. 
Q: Is the Periodontal / Gum Disease Treatment right for me? 
A: Your doctor will be able to tell you if you have gum disease that can be addressed at our office.  Periodontal disease takes 1-2 visits to remove and maintenance visits throughout the year to keep under control.  This plan add-on is meant to help reduce the cost of those visits and save you money overall. 
Membership Plan Disclosures
The membership plan is offered to uninsured persons only. The membership plan is not (i) insurance, (ii) a qualified health plan under the Affordable Care Act, (iii) pre-payment for future services, or (iv) payment for access to discounted services. Rather, the membership plan is a direct payment arrangement between you and your dentist for services, products and care provided.
You can receive a full refund up to 30 days after purchase if no services of the plan have been used. If services have been used, you may be eligible to receive a refund equivalent to a pro rata portion of your purchase less treatment administered at full cost. Refunds after 30 days will be at the discretion of your dentist.
The membership plan runs for 12 months and includes an auto renewal feature. You can opt out of the auto renewal at anytime by emailing hello@pureholisticdentist.com You will receive an email reminder within 1 month prior to the renewal date.
Your membership plan payments must be current to receive the services and discounts included in the membership plan.
Payment for treatment not included in the membership plan is due at the time of service unless other arrangements have been made with the office.
The pricing offered by your dentist may not be combined with any other offers or discounts.
Are we a good fit for you?
You want to save time and money over your lifetime to get optimal health
Your goal is to be the healthiest version of yourself to feel the best
You want the least amount of dental work possible