Mercury Safe Dentistry
We are able to safely remove old mercury amalgam (silver fillings) through a very specific procedure. We never use mercury amalgam to fill cavities.

Integrative Dentistry
Here at Pure Holistic Dental, we believe what happens orally affects the rest of the body, and vice versa. Our oral health impacts the rest of our body because the mouth, teeth and gums are integrated with our body systems.

Minimally Invasive Dentistry
Our goal is to conserve healthy teeth through prevention, remineralization, and minimal dental intervention. We evaluate every patient to see their risk and put together a plan individualized for them.
About Us
Holistic Dentist in Houston TX
Pure Holistic Dental is a Biological Dental Office in Houston focused on providing the best possible patient care.
We use a "Team of Doctors" approach where you are cared for by the whole team based on the patients specific needs.
From Airway Expansion to Biomimetic Restoration to Advanced Extraction of Painful Teeth…
…Our Holistic Dentists Have Got You Covered!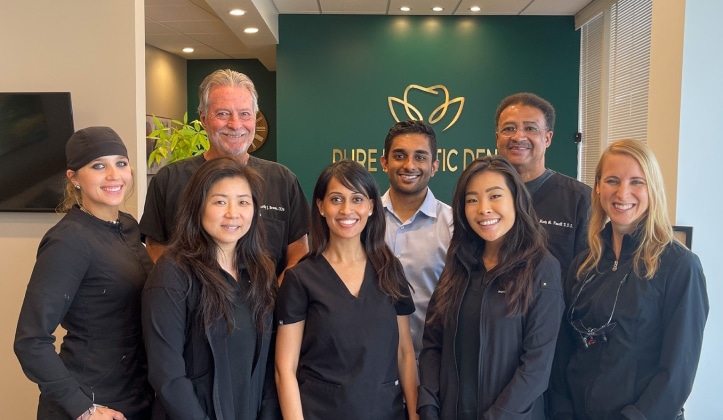 SAFE – MERCURY REMOVAL
Since the 1800's, silver-colored amalgam fillings have been used for tooth decay. These fillings still contain about 50% mercury. There has been much research proving the negative effects mercury can have on the body, including the nervous, digestive and immune systems, and the lungs, kidneys, skin and eyes.

BIOCOMPATIBLE FILLINGS
For a material to be considered "biocompatible" it must be able to exist in the body without causing any harm. We can test the compatibility of dental materials with a simple blood test before selecting the materials to place inside your mouth.

ROOT CANAL ALTERNATIVES
A Dentist perform root canals for many different reasons: tooth abscess, infection, traumatic injury, deep decay, multiple procedures on the same tooth over time and a major chip/crack on the tooth. Most people are in serve pain before the procedure is done.

BIOLOGICAL TOOTH EXTRACTION
Our goal at Pure Holistic Dental is to always try to save our patient's tooth. However, there are situations when that is not possible, which include: no structure left above the gum, tooth is cracked/fractured or tooth has serve infection. Once we have determined the tooth must come out, we use a procedure to extract it as safely as possible.

ADVANCED TECHNOLOGY
At PHD, we believe that using the best and latest technology allows for the best care. From 3D Cone Beam X-Ray technology to Zirconia implants, we believe in using the best

Emergency Dental
Dental Emergencies always happen when you least expect them and at the worst possible times. Whether its a tooth chipping while watching the playoffs or a crown that breaks while you're having lunch with your child, We've Got You Covered!
Are we a good fit for you?
You want to save time and money over your lifetime
Your goal is to be the healthiest version of yourself and feel the best
You want the least amount of dental work possible

TECHNOLOGY AND FUTURE FOCUSED

CONSERVATIVE APPROACH TO TREATMENT

REDUCE INFLAMATORY RESPONSES

TOTAL HEALTH AND PREVENTION
Frequently Asked Questions
How Does a Holistic or Biological Dentist Look at Health?
Oral health issues are either a Symptom or Cause of an underlying problem happening elsewhere in the body.
Example: Cavities can be a symptom of diet, acid reflux, or airway problems.
Example 2: Jaw alignment can cause posture irregulatiries, oxygen intake, or speech problems among others
Can You Describe the Holistic Dental Exam Process?
Biological Dentists will examine teeth, gums, head & neck muscular system, sleep quality, nutrition & lifestyle. The dentists will follow on with questions regarding diet, medications, and daily activities in search of underlying issues causing or caused by distress to the mouth. The exam will also include x-rays if necessary for diagnosis, an oral cancer screening, and examination for any visual cues signalling disease or disfunction.
Can you describe your X-Ray technology?
Pure Holistic Dental / Biological Dentists uses digital 2&3D X-ray technology in limited scope, typically during first visit and to monitor problem spots as needed
Use 3D CBCT scanning to view layers of tooth & bone structure in head & neck in order to diagnose underlying problems
Use digital X-Ray technology instead of film to reduce the patient's exposure to radiation
Homeopathic medication is also available to reduce the body's reaction to X-Ray Radiation (reduce inflammation/itchiness)
What materials do holistic dentists use for fillings & crowns?
Pure Holistic Dental only uses High-Quality, metal free materials are used for every patient's fillings, crowns and implants. Patient specific materials are on-site and used when/if a patient is suspected to have a negative reaction to standard materials through Clifford compatibility testing.
Metal or Mercury Amalgams are NEVER used in a holistic office due to the numerous scientific studies showing negative effects of this type of treatment
Do Holistic Dentists Use Fluoride in your Products?
Pure Holistic Dental / Biological Dentists do NOT use fluoride in dental products. Instead, uses materials that include micro-granulated hydroxyapatite to strengthen your teeth.
Nano-Hydroxyapatite is the same natural material that your teeth are made from
Do Biological Dentists use Ozone Therapy in the practice?
Yes, ozone therapy is incorporated into several aspects of a holistic dental practice including cleanings, extractions, fillings, and other preventative treatments. This technology has been well established and has produced well documented positive results for infection control and prevention of bacterial growth.
Do Biological Dentists Remove Mercury Fillings? What is the Fix?
Mercury fillings should nearly always be replaced depending on age and risk to health if they are damaged or deteriorating. Mercury is removed using the SMART protocol and with additional protective gear for both the patient and the dentist. Fillings are replaced with biocompatible materials, unique to the patient, as described above in the materials section