Laser Dentistry refers to the use of lasers to treat a number of different dental conditions.  This can range anywhere from cutting a tooth for removal of a cavity to reshaping the gums.  Laser Dentistry has been used in clinical dental settings since 1989.
Pure Holistic Dental practices Laser Dentistry in Houston for soft tissue procedures.  The Laser Dentists at PHD have seen great results in terms of surgery and recovery for laser dentistry patients in Sugar Land and the surrounding areas.
What are the Benefits of Laser Dentistry?
Laser dentistry can potentially offer a more comfortable dental experience than older methods.  The use of a quality dental laser can help eliminate pain, reduce need for anesthesia, and speed up the healing process after surgery.
What Type of Laser Do You Use?
Pure Holistic Dental uses a Deka Smart CO2 Laser.  This is a soft tissue laser used in general dentistry, oral surgery, and periodontal procedures.  Pure Holistic Dental's trained laser dentist's chose this laser for its precise and powerful beam.  The narrow laser scope with high power output provides a "scalpel-like" ability to work with soft-tissue with minimal trauma to surrounding areas.
That means that we can do a better job at serving the patient and minimizing pain and healing time than other dentists.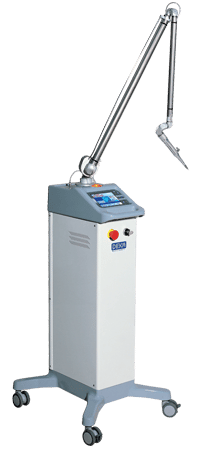 What procedures are performed using Laser Dentistry?
Our Sugar Land local dentists can provide a wide variety of soft tissue procedures using the CO2 laser.  This includes, but is not limited to, the following.
Treating a tongue frenulum attachment (Frenectomy)

Those with a thick or tight frenulum (the fold of skin under the front part of tongue that anchors to the mouth floor) may benefit from a laser frenectomy.
This treatment helps children whose restricted frenulum causes them to be tongue-tied, have difficulty breastfeeding, or have a speech impediment.

Removing soft tissue folds

Lasers can remove or adjust soft tissue folds that may cause pain when wearing ill fitting dentures or temporaries.  Our dentists can reshape the soft tissue so that your dentures fit perfectly.

Crown Lengthening

For those suffering with gum recession or a gap between their existing crown and their gums.  This procedure helps to reshape the gum tissue and remove any decaying/damaged tissue around the crown to prevent further deterioration.

Treating Obstructive Sleep Apnea

Our soft tissue laser can help reshape or recontour the surfaces of the throat to improve airflow and volume.  This can be a highly effective treament when Sleep Apnea is caused by an obstruction or overgrowth of tissue.
What are the benefits of Laser Dentistry?
Laser dentistry has many benefits that stem from the utilization of a better tool for surgery.  The laser's beam itself is more percise than traditional metal instruments used in dentistry.  Therefore, the size and depth of incisions will be minimized and can produce the following results.
For some procedures and patients, anesthesia will be unnecessary.  For others, numbing medication can be minimized versus older methods.
The potential for resulting bacterial infections greatly decreases with the use of a laser.  This because the laser sterilizes the site due to the heat and energy applied during the procedure itself.
Bleeding will be minimized due to the fact that the laser will cauterize the site during the procedure itself.
Wounds will heal faster due to the cauterization described above.
Stitching or sutures will be minimized due to the fact that the use of the laser will produce smaller incisions and the site will be cauterized during the procedure.
What are the drawbacks of Laser Dentistry?
The use of lasers in dentistry has very few and limited drawbacks.  Most cons of laser dentistry result from the use of hard-tissue lasers on procedures related to cutting teeth.  These are described below.
Hard Tissue Lasers can sometimes damage teeth pulp if a laser cutting process goes too deep within the tooth.  This may result in a partial or full pulpotomy.
Drills may sometimes be needed to complete fillings including shaping, finishing, and polishing the bite.
Hard Tissue Lasers cannot be used on all surfaces like amalgam fillings.
Since these issues are limited to the use of hard-tissue lasers for cutting and reshaping teeth, our laser dentists at Pure Holistic Dental choose not to use hard tissue lasers in dentistry for our Houston area office.
Does Laser Dentistry Cost More than Conventional Methods?
No, Laser dentistry is performed at the same price as conventional methods.  You may see a price difference when comparing a laser trained doctor versus a conventional dental office.  However, dental pricing is procedure based and set at the office level. This does not vary based on the equipment used.
Some procedures may not be capable of being performed using conventional methods in our office.  This may be because the necessary equipment or training is not available.
Should I choose to see a laser dentist for my next visit? 
Yes, absolutely, there is no question about it.  On top of all the benefits that lasers provide for our patients, you can rest assured that our laser-trained dentists in Sugar Land have received more continuing education and training than other dentists in the Houston area.
We look forward to seeing you and showing you the Pure Holistic Dental difference!
Are we a good fit for you?
You want to save time and money over your lifetime to get optimal health
Your goal is to be the healthiest version of yourself to feel the best
You want the least amount of dental work possible